April Greetings!
"Flowers, plants and fishes, beasts, birds, flyes, and bees,
Hills, dales, plaines, pastures, skies, seas, rivers, trees;
There's nothing neere at hand, or farthest sought,
But with the needle may be shap'd and wrought"
The Praise of the Needle ~ John Taylor (1578-1673)
One of the pleasantest things I can think to do when dull, drab weather is refusing to retreat, is to sit next to a sunny window with a bit of handwork. A basket of wool scraps, scissors, needle and thread are my companionable tools. The sun works its way across my table, as I cut little shapes from my bits of wool and stitch them together. I need no music save the ticking of the clock and the soft sound of thread being pulled through wool. And as I work, my thoughts drift to the warmer days ahead (they are sure to come!) when the soil warms and my little garden once again is filled with fragrant blooms…
"All my scattering moments are taken up with my needle."
Ellen Birdseye Wheaton, 1851
Early Work Mercantile
My offerings on Early Work Mercantile are the result of my time spent stitching by the window as well as some tiny old wood and wire signs with words related to the farm and garden. Please do have a peek…
New Pattern ~ Sister's Chickens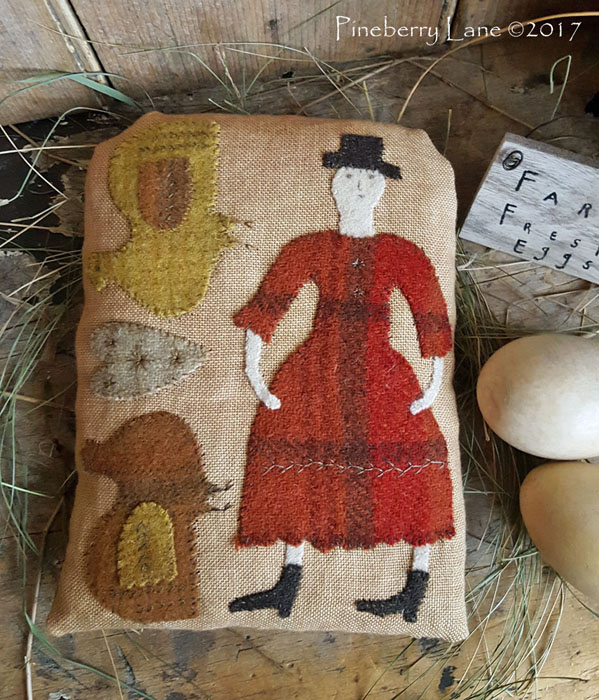 Inspired by two of my favorite early tin cookie cutters, this folky little pillow features "Sister" and her beloved chickens. Pieced together from a warm palette of hand dyed wools on Weeks Dye Works Straw linen with lots of embellishment stitching. It measures 5.75"w x 7"h ~ large enough to set in a small child's chair. Pattern available under Featured Items at right!
Until next month, my friends...
I wish you many pleasant hours!
~ * ~ * ~ * ~ * ~ * ~ * ~ * ~
"God, give me grace,
I ask no more;
Contentment is a constant store."
~~ Old Sampler Verse ~~