September Greetings!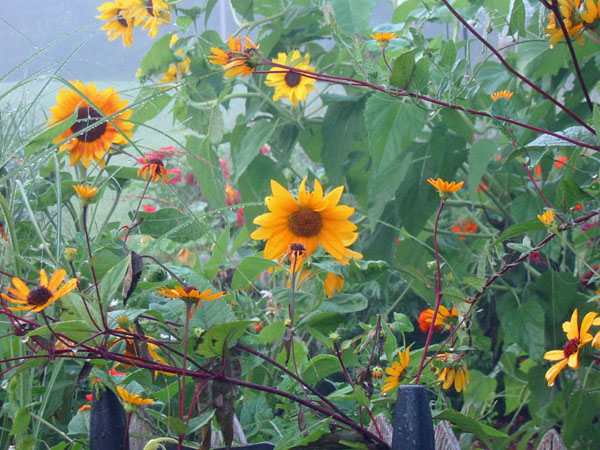 "Lo! sweeten'd with the summer light,
The full-juiced apple, waxing over-mellow,
Drops in a silent autumn night.
All its allotted length of days
The flower ripens in its place,
Ripens and fades, and falls, and hath no toil,
Fast-rooted in the fruitful soil."
~~ Alfred Lord Tennyson ~~
And here we are…..standing on September's hospitable doorstep! It seems just a few days ago I wrote about my reluctance to let summer go. Has one whole month truly passed? Indeed. This morning, in fact, as I took my walk through the field I felt it for the first time this season – a coolness that sent me back inside for a sweater. But these are the most delicious days of the year. The garden is still producing an abundant supply of tomatoes, basil, cucumbers, thyme and chives. Purple asters and goldenrod color the field. Our homes are filled with scent of apple crisp, zucchini bread, and homemade soup. And the porch beckons us to sit a spell and enjoy the warm afternoon sunshine. This month, I promise myself to take time for myself – to let my mind wander and my fancies take root as I rock back and forth on the porch in the September sunshine…
Early Work Mercantile
Join us this month on EWM as we celebrate our Old Harvest & Halloween Gathering! My offerings include two tiny stitched works (sneak peek above), an antique sampler stitched by Jane Rowley, and, to round out this month's offerings, I'm offering cellar apples and dried gourds to decorate your harvest home!
The pattern for "Old Black Cat & Friends" is now available under Featured Items!
Until next month, my friends, I wish you many pleasant hours!