Fresh Finds!
My Flea Market Finds pages have re-opened! You will find lots of great treasures including vintage tin, crockery, gorgeous silk embroidery thread, early daguerreotypes, strawberry emeries, pincushions, vintage velvet and more. As always, shipping overcharges in excess of $2.00 are refunded. Click on the Finds button above.
I've also added a trio of small samplers to the Antique Samplers category. Please do take a peek!
July Greetings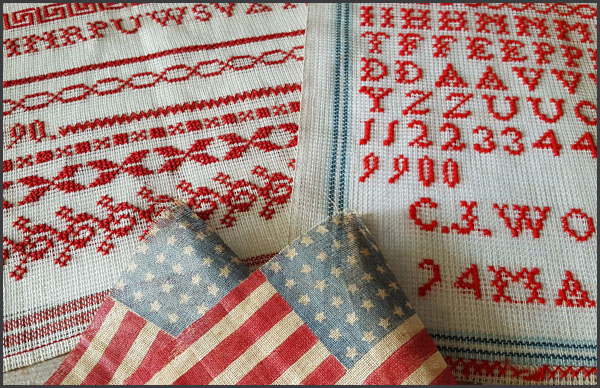 "Look out into the July night, and see the broad belt of silver flame which flashes up the half of heaven, fresh and delicate as the bonfires of the meadow-flies…"
~ Ralph Waldo Emerson ~
Welcome, July! Welcome summer with all its splendid pastimes - like parades and fireworks, picnics, fairs and festivals. I don't go to them myself – festivals, that is. No, I prefer quiet and solitude over all the hubbub attendant at large celebrations. Oddly enough, I do take real pleasure in thinking of all the fine folks enjoying the music, food and drink. And I don't at all mind hearing the din of live music as it floats across the distance on a gentle summer breeze. But give me a rocking chair on my porch, a glass of lemonade and fireflies dancing above tall grasses in the field at dusk. That's my favorite way to celebrate this delicious season!
"We love our land for what she is and what she is to be;
Oh it's home again, and home again, America for me!"
~ Henry Van Dyke ~
Samplers for Sale
I've added a new category "Antique Samplers" to my web site, where you will find antique samplers for sale. I will be adding items over time, but to kick off this patriotic month I have listed a handful of samplers with red, white, and blue as the primary colors, including those in the photo above. Please take a peek!
The Witch's Garden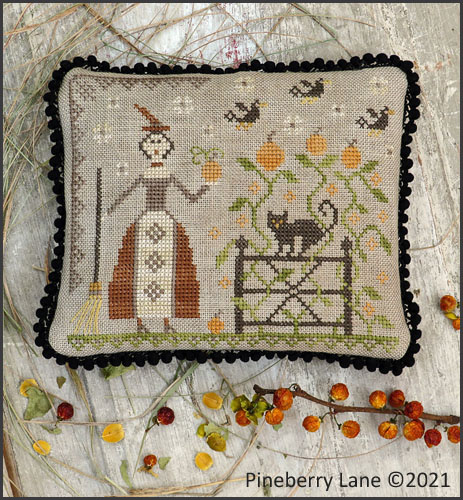 I know many of you start thinking of stitching autumn-themed projects at this time of year, so I am pleased to release "The Witch's Garden". Available now in e-pattern and mailed formats. Don't forget – if you order an instant download (e-pattern) you will find your pattern when you login to your account. Look under "My Account > Downloads". Happy stitching!!
In Closing...
Until next month, my friends, wave your parade flags, enjoy a glass of lemonade, and relish these blessed days of summer…
As Ever,
Wendy
Featured