September Greetings!
"I love best to have each thing in its season, doing without it at all other times."
Henry David Thoreau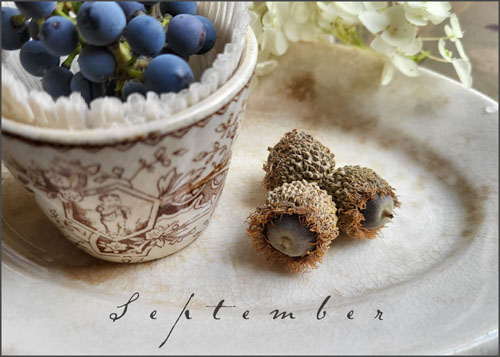 As much as I long for the gifts of my garden in the silent, white, winter months, like Thoreau, I, too, prefer to have each thing in its season. For if I had bright flowers growing outside my door every day of the year I would not have the joy of finding acorns nestled in the grass at the foot of the oak that grows in the field. Nor would I see hoar frost lacing the branches of the old crab apple trees. And I would have to forfeit the smell of leaves mouldering along the edge of the woods and rose hips brightening in the thicket. I would have to do without pumpkins and cornstalks and a hearty fire crackling on the grate. And that just wouldn't do...
"As long as this exists…and I may live to see it, this sunshine, the cloudless skies, while this lasts, I cannot be unhappy… As long as this exists, and it certainly always will, I know that then there will always be comfort for every sorrow, whatever the circumstances may be. And I firmly believe that nature brings solace in all troubles."
"The Diary of a Young Girl," Anne Frank
* * * * *
Fall Stitches Sale!
I've no new patterns to offer this month, my friends, but if you are looking for a bit of fall stitching, you might want to consider the projects you see above. You will find them all listed under "Featured" below AND you can enjoy 10% off this select group for this month only (mailed & e-patterns)!
Happy stitching!!
(Discount applies to retail sales only.)
Instant Download & Free Pattern Reminders
After purchasing an instant download from my web site, you will find your e-pattern under My Account > Downloads.

Free patterns are available by going to the item page and clicking on the link in the item description. No need to put them in your cart or create an account. Happy stitching!
As always, I am ever so grateful for your patronage and friendship and I wish you all the blessings this delicious month has to offer!
As Ever,
Wendy
Featured