August Greetings!
"Fairest of months! Ripe summer's queen,
The hey-day of the year;
With robes that gleam with sunny sheen
Sweet August doth appear."
~ R. Combe Miller ~
A few days ago, while taking my walk through the field, I heard the first crickets. Just a few, singing quietly from the field's mysterious depths while the tall grass swayed on the hot air above. Summer is moving along. The fox grapes that wind along the path are beginning to purple and tiny acorns dot the branches of the burr oak. In the garden, black-eyed susans and coneflowers bloom. The wheat field, freshly cut, looks bright and combed against the dark backdrop of the cornfield. Cicadas sing and the sun, high above, blazes down in such a way that one is inclined to seek out the shadiest bower. The changes are subtle, but enough that my thoughts begin to turn to autumn. But I don't long for it yet. No, I love this time of year and want to hold onto summer for as long as I can. So I will enjoy this lovely month and all the gifts she has to offer. My wish for you is that you may do the same.
"The dandelions and buttercups gild all the lawn: the drowsy bee stumbles among the clover tops, and summer sweetens all to me."
~ James Russell Lowell ~
New Pattern!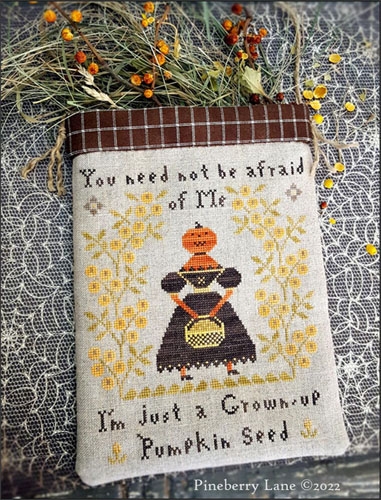 I'm releasing a new pattern this month! A Quaint Country Ladies Club piece from a few years ago – now available to everyone. Inspired by a verse from an early 1900s Halloween postcard. "Pumpkin Seed" features a sweet pumpkin lady carrying her basket of pickings amidst winding vines of bittersweet. Finished into a bag that is perfect for your own dried gatherings! Available in mailed or instant download format. Find it under Featured below!
Flea Market Finds Update
I've updated my Flea Market Finds pages with fresh treasures – from flower frogs to transferware, old wood and tin finds, vintage sewing notions and more! Please take a peek! And remember, shipping overcharges in excess of $2.00 are refunded.
Instant Download & Free Pattern Reminders
After purchasing an instant download from my web site, you will find your e-pattern under My Account > Downloads.

Free patterns are available by going to the item page and clicking on the link in the item description. No need to put them in your cart or create an account. Happy stitching!
As always, I am ever so grateful for your patronage and friendship and wish you all the lovely joys this month has to offer!
As Ever,
Wendy
Featured