March Greetings!
Just a quick note this month, my friends to say hello and wish you an abundance of blessings on this first day of March. We have crested Old Man Winter's snowy hill – hooray! The red winged blackbirds have returned. There is no surer harbinger of spring than their trilling song as it rings across the fields! The dogwood branches are blushing red and soon, soon the pussy willow will put forth its silvery buds. I am eagerly watching for any sign of green growing things in the field and garden. I know it is early, but I take heart in knowing that the chives planted in a sheltered spot behind the garage will make their appearance by the end of the month. So I wait and watch and dream of the warmer days to come…
"I never had any other desire so strong, and so like to covetousness, as that one which I have had always, that I might be master at last of a small house and large garden, with very moderate conveniences joined to them, and there dedicate the remainder of my life only to the culture of them and the study of nature."
Abraham Cowley
New Patterns!
The Nashville Needlework Market begins on March 3rd, but I am making my new patterns available to you today! The first, originally designed as a club piece in 2021, is a sweet little cushion with a pocket on the back ~ the perfect place to tuck a note, photo, or other small token of affection. "A Token of Friendship" comes with an alphabet and number chart so you can personalize your work.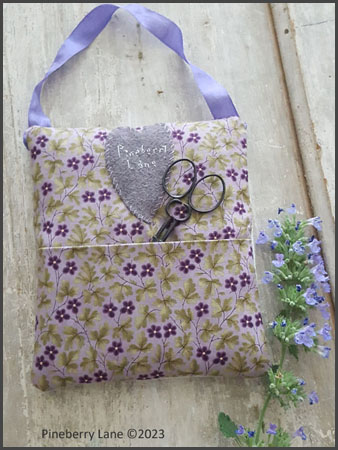 The second, also originally designed for the Quaint Country Ladies Club in 2021, is a Christmas design that I've had so many requests for that I decided to release it now rather than next November, as I originally planned. "Joyeux Noel" is worked with a minimal palette of the prettiest colors! I finished mine into a small cushion with bells at the corners but it would look pretty framed, too.
Both are available in mailed and instant download formats. Convenient links can be found under "Featured" below.
"Take your needle, my child, and work at your pattern; It will come out a rose by and by. Life is like that – one stitch at a time taken patiently and the pattern will come out all right like the embroidery."
Oliver Wendell Holmes
Instant Download & Free Pattern Reminders
After purchasing an instant download from my web site, you will find your e-pattern under My Account > Downloads.

Free patterns are available by going to the item page and clicking on the link in the item description. No need to put them in your cart or create an account. Happy stitching!
Until next month, my friends, I wish you all good things!
As Ever,
Wendy
Featured