Welcome, July...
And where the marjoram once, and sage and rue,
And balm and mint, with curled-leaved parsley grew,
And double marigolds and silver thyme,
And pumpkins 'neath the window used to climb…"
~~John Clare, c. 1800~~
Summer is in full swing and I, for one, am feeling much better than I was a month ago. I have a tendency to be quite out of sorts until the garden is in. It took me a little longer this year, but it is, finally, "in" ~ seeds planted and growing ~ everything tall and lush and full of color. Mrs. Otis, looking sweetly feminine in a fresh dress, presides over zinnias, basil, sunflowers, garden phlox, catmint, nasturtiums, cilantro, tomatoes, yarrow, and chives ~ all freshly weeded. There is an old wood bench, shaded by sunflowers and tucked against the fence. It is a pleasant and unobtrusive spot from which to observe winged visitors ~ for my garden has an abundance of feeders and a large bath. The garden gnome (mossy, old fellow!) plays his concertina beneath a shower of sunflower seed shells and an iron tea kettle that sits on the weathered chair next to Mrs. Otis offers refreshment in the way of yellow flowering sedum. My heart is in this little bit of a garden and all is right with my world…
"I would heartily advise all men of meanes, to be stirred up to bend their minds, and spend a little more time and travel in these delights of herbes and flowers…"
~~John Parkinson, Theatrum Botanicum (1640)~~
New Pattern ~ M. Walton 1877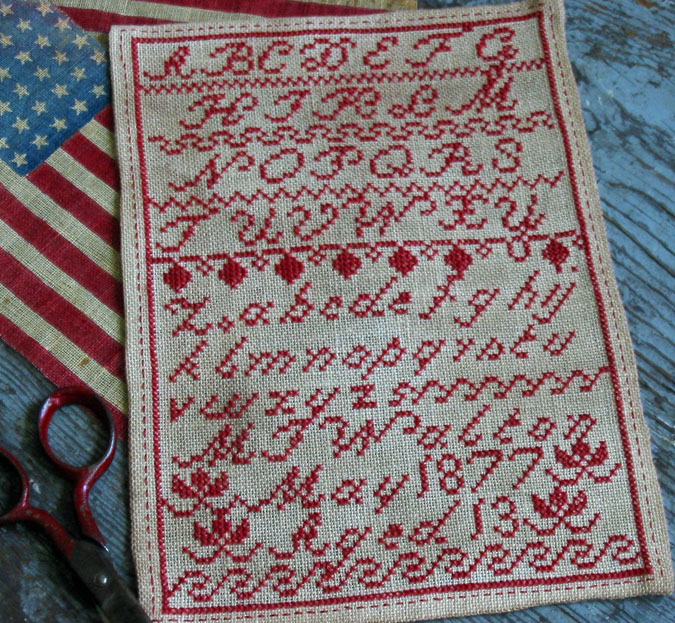 While I have spent much of my time in the garden this past month, I did manage to stitch up a sweet, little redwork marking sampler – perfect for July! It is a reproduction of one of my antique samplers and works up quickly. I can't think of a pleasanter way to spend a few hours on a summer afternoon than with a bit of linen and thread, quietly stitching while the bees go about their work and flowers nod in the garden. M Walton ~ 1877 is available under Featured Items (at right) as well as on Pattern Mart.
EWM Offerings
Visit my Early Work Mercantile page where I'm offering two antique redwork samplers! And the early flea market season produced a handful of tarnished, old silverplate, so I've made some fresh sets of garden markers. You will find them there, too.
Facebook
Visit my Facebook page for quick posts and sneak peeks. You don't need a Facebook account to see my page ~ it is open to the public!