Welcome, June...
"Drowse on, soft flowers of quiet afternoons, -
The breezes sleep beneath your lulling spell;
In dreamy silence all the garden swoons,
Save where the lily's aromatic bell
Is murmurous with one low-humming bee,
As oozy honey-drops are pilfered by that filcher wee."
~~John Russell Hayes, "The Old Fashioned Garden"~~
It seems I find myself confessing every so often (for the benefit of those who are new to my work) that some of the characters I create seem to move through life with me. What I mean is, when I am gardening, I imagine Fancey Blackett in her little garden plot checking the growth of the pumpkins and filling her apron with ripe tomatoes. I chat with Mrs. Otis on a daily basis when I am surveying or watering the garden and she gives me the latest news of the flowers and herbs and the wee mousies who live in her teapot. Mrs. Maguire is the latest character to settle into my life. All these ladies, like me, are gardeners with a fondness for the little creatures that make our gardens their home. So, when I created "Mrs. Maguire's Garden" last year, I knew she would appear in my work again. In my newest design, we find this good woman tending her bees and collecting honey in "Mrs. Maguire ~ Bee Charmer." The pattern is available under Featured Items as well as on Pattern Mart. Happy stitching!
"Bees do have a smell, you know, and if they don't they should, for their feet are dusted with spices from a million flowers."
~~Ray Bradbury, "Dandelion Wine"~~
Early Work Mercantile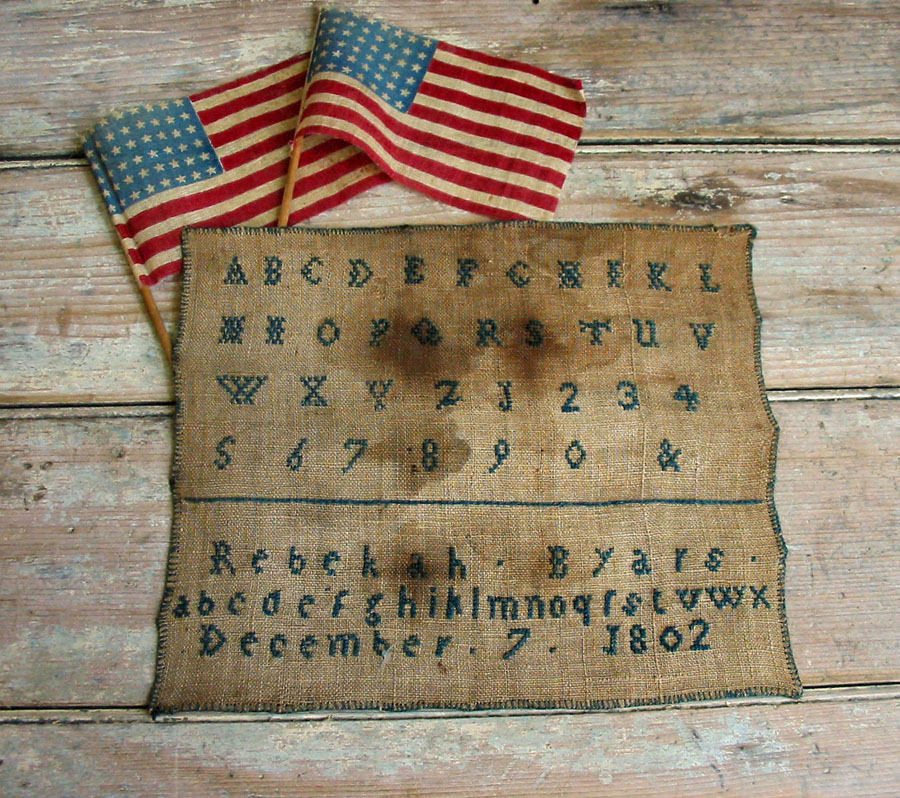 Please visit my Early Work Mercantile page where you will find one wonderfully primitive antique marking sampler stitched by Rebekah Byars in 1802, some good, cream colored raw wool for stuffing your pinkeeps (or adorning your dollies), and the last of the old wood plant markers.
Flea Market Pages Update...
My Flea Market Goods pages have been updated with lots of good things ~ destash linen, ironstone, transferware, vintage wool, and much more! Some items are heavy or rather large and it can be hard to calculate accurate shipping, especially when multiple items are in an order. Therefore, shipping overcharges in excess of $2 will be refunded once your order is packed and ready to ship.
Until next month, my friends, I wish you all the joys the lovely month of June has to offer!