February Joys...
Jack Frost painting pretty pictures on the window...
Bright moonlight casting long shadows on the floor...
A clock ticking on the landing...
A pile of soft bed linens to pull up to my chin...
The gentle breathing of a beloved canine...
Rain pattering on the roof...
The smell of books...
The way a good book feels in your hand...
A pincushion full of pins and needles and bits of thread...
A bit of stitching waiting to be taken up...
And always, always the soft sound of thread being pulled through fabric...
***********
"Surely as cometh the winter, I know ~
There are spring violets under the snow."
~ R. H. Newell ~
EWM Offerings...
What are some of your joys this month? If they happen to include calico, pinkeeps, and redwork you won't want to miss the goods I have listed for your consideration on my Early Work Mercantile page...
New Pattern!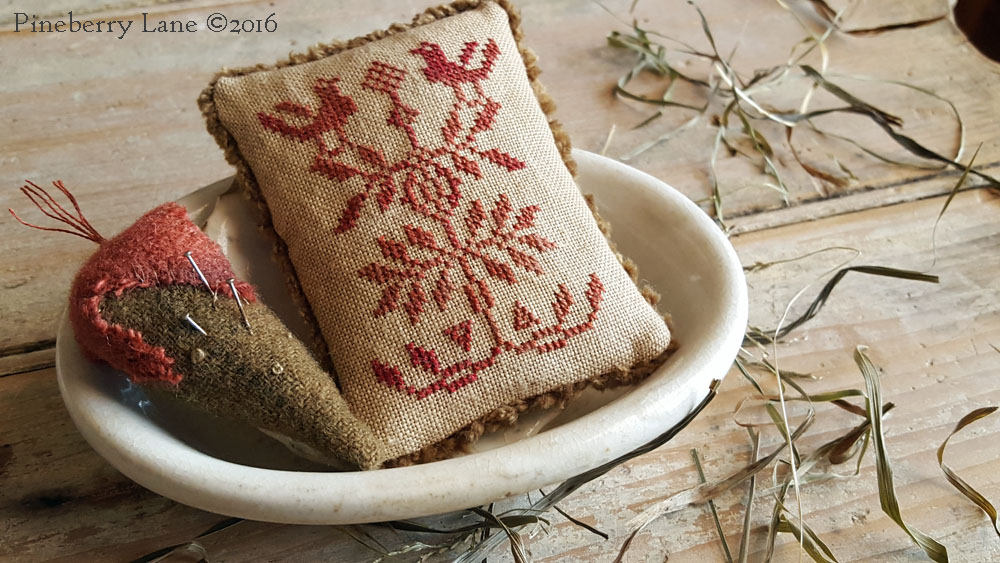 "Lovebirds Pin & Scissors Keep" is a tiny redwork pinkeep with a pocket on back for an equally tiny scissors. The wonderful motif is taken from an antique sampler and is worked in The Gentle Arts delicious Ruby Slipper thread. A quick and easy stitching project that can be personalized with your own initials. It would make a sweet Valentine's Day gift for a friend! The pattern also includes instructions for making the wool strawberry. Available under Featured Items as well as on Pattern Mart.
A Note About Shipping
The USPS raised its rates for First Class and Priority Mail packages as of January 17th. The rates have gone up significantly – an average of 9.5% for Priority Mail and 12.8% for First Class. I've made the changes to my shopping cart but please know that I refund shipping overcharges in excess of $2.00. And if you ever want a shipping estimate before ordering, simply email me and I'll be happy to do that for you.
In Closing...
I leave you this month with the wish that you find simple, unaffected joy in the gifts that are around you each and every day. And a most happy Valentine's Day from me to thee…
~ * ~ * ~ * ~ * ~
Sunsets red and quiet air;
Ponds are ice and trees are bare;
Fields are frozen far and near;
February days are here.
Bitter cold the night draws down
On the country and the town,
But in cheerful warmth we sit,
As the little room's lamp is lit.
~~ K. Pyle ~~
Visit Wendy's profile on Pinterest.
---