Welcome, December!
"By this time it was getting dark, and snowing pretty heavily; and as Scrooge and the Spirit went along the streets, the brightness of the roaring fires in kitchens, parlours, and all sorts of rooms, was wonderful. Here the flickering of the blaze showed preparations for a cosy dinner, with hot plates baking through and through before the fire, and deep red curtains, ready to be drawn, to shut out cold and darkness."
~~Charles Dickens, A Christmas Carol~~
This time of year truly has a special "feel" to it, don't you think? It is as if the very air sparkles and shimmers. Surely Charles Dickens was thinking the same when he penned the passage above! Perhaps it is the bright sprinklings from the Ghost of Christmas Present's torch! Remember his torch? The one he blessed Bob Crachit's house with? The one from which he sprinkled incense over Christmas dinners, especially those of the poor? The one that made quarrelsome people put aside their differences because, after all, it was Christmas Day? The one that sprinkled benevolence and humble gratitude all 'round? Ah yes, I think that is it. The Ghost of Christmas Present sprinkles generously from his torch at this blessed time of the year. I hope you are one of his beneficiaries…
Be merry all, be merry all,
With holly dress the festive hall;
Prepare the song, the feast, the ball,
To welcome merry Christmas!"
~William Robert Spencer~
Early Work Mercantile
I've had many requests for ittle wood and wire signs that reflect the sentiments of the Christmas season, so how could I resist? Take a peek at my Early Work Mercantile page!
New Pattern ~ Winifred Glarke 1892!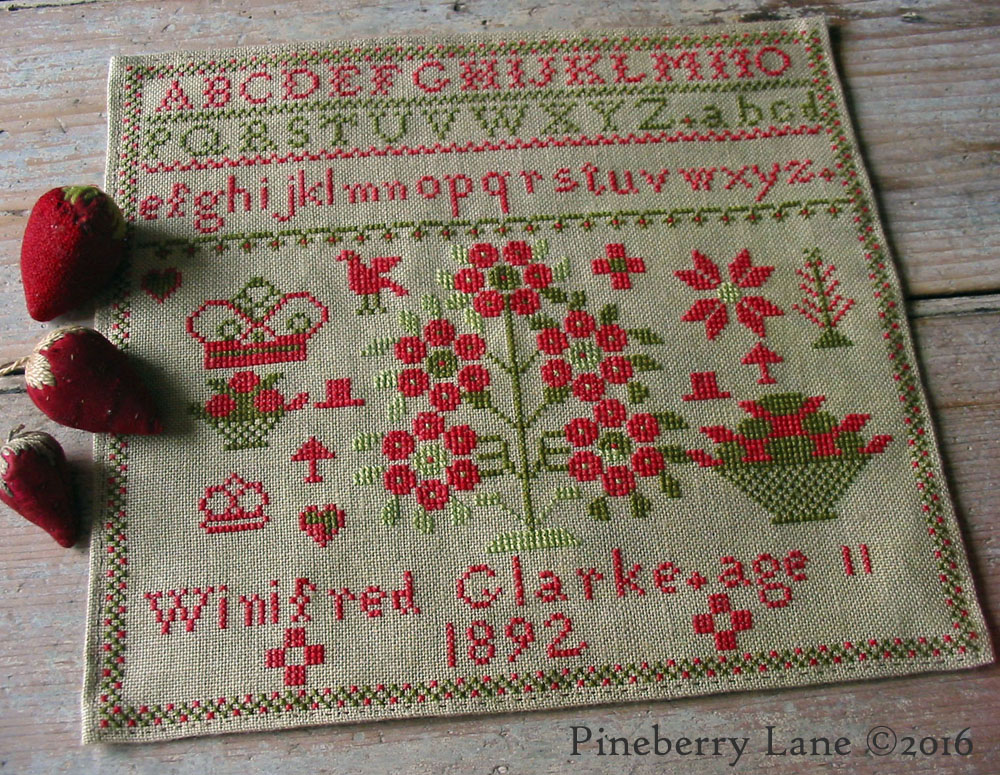 What could be more festive than to stitch a bit of needlework in red and green? So it is with my newest reproduction sampler ~ Winifred Glarke 1892. Filled with floral motifs, crowns, and fruit baskets, it is a jolly stitch, indeed. Available under Featured Items as well as Pattern Mart.
Thank you!
Sincerest thanks to everyone who shopped my After Thanksgiving Sale! It was a huge success and I am ever grateful to you, my wonderful friends and customers.
~ * ~ * ~ * ~ * ~ * ~ * ~ * ~
May you have the gladness of Christmas which is hope;
The spirit of Christmas which is peace;
The heart of Christmas which is love."
~~Ada V. Hendricks~~