Welcome June!
"That beautiful season the Summer!
Filled was the air with a dreamy and magical light;
And the landscape lay as if new created in all the freshness of childhood."
Henry Wadsworth Longfellow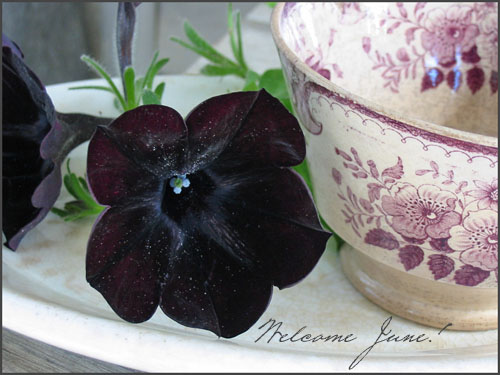 Forgive me for being a bit late in sending this month's missive. Work and other obligations seem to fill my days and before I know it, another month has flown by! June arrived with all the glory of full-blown summer – blue skies, sunshine, and the kind of heat that finds one seeking the shadiest spot in the yard. Find such a spot beneath a tree where you can close your eyes and listen to the breeze rustling the leaves – heaven! And who can deny the delights of:
Tart lemonade in a frosty glass…
Flowers blooming in the garden…
And the smell of fresh cut grass…
A showery sort of day - just right for stitching…
Peonies gracefully bowing their dew-laden blossoms…
Fresh picked berries…
The fragrance of thyme and scented geranium…
Heat lightning in a dusky sky…
Fireflies winking…
Crickets singing…
Welcome Summer!
* * * * * * *
"O gift of God! O perfect day:
Whereon shall no man work, but play;
Whereon it is enough for me,
Not to be doing, but to be!"
Henry Wadsworth Longfellow
* * * * * * *
In the Works
Lest you think I have been completely idle the past few months, I offer this peek at an antique sampler I am in the midst of reproducing. One of the hardest things, for me, about reproducing old samplers is choosing the colors. Threads can look perfect when you choose them, then not quite right when you start working them on the linen. Hence my starting this reproduction twice! I hope to have this little beauty ready to go by the time I send 'round next month's newsletter.
Instant Download & Free Pattern Reminders
After purchasing an instant download from my web site, you will find your e-pattern under My Account > Downloads.

Free patterns are available by going to the item page and clicking on the link in the item description. No need to put them in your cart or create an account. Happy stitching!
Until next month, my friends, enjoy these blessed early days of summer…
As Ever,
Wendy
Featured